The Creative Directors of Australia's exhibition at the Biennale Architettura 2016 have offered Australians a first look at The Pool ahead of the international event in Venice, Italy, which runs from 28 May to 27 November.
The Pool: Architecture, Culture and Identity in Australia is the companion publication for Australia's highly anticipated contribution to the Biennale Architettura 2016, curated by Aileen Sage Architects (Isabelle Toland and Amelia Holliday) with Michelle Tabet.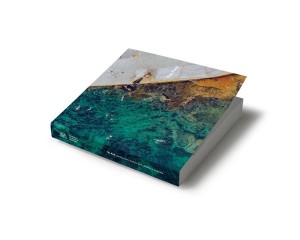 The book explores the Australian affinity with the pool, and was unveiled at Icebergs Dining Room and Bar in Sydney on Wednesday 30 March by the Creative Directors, who were joined by Olympian Ian Thorpe, author Anna Funder and Indigenous art curator Hetti Perkins, who all feature in the book.
Designed to offer a richer experience of the exhibition, the book explores the relationship between architecture and Australian cultural identity through personal anecdotes about one of our country's most significant public spaces.
Eight prominent Australians have shared their pool stories: Thorpe, Funder and Perkins were joined by Olympian Shane Gould, environmentalist Tim Flannery, fashion designers Romance was Born, author Christos Tsiolkas and musician Paul Kelly.
'This publication is a compendium of our research and the stories our process revealed. We designed it to be accessible, visually appealing but also intimate in tone. While it should work as a standalone publication, we also wanted it to give visitors to the exhibition a deeper and more meaningful engagement with the themes we're exploring,' the Creative Directors said.
'The pool is revealed through the featured accounts as a vital force in Australian life, not only as the setting for childhood memories, but also as the stage for impressive sporting feats that fuel the nation's pride. A backdrop to many significant events in our communities, the pool is also a deeply contested space in the history of Australia, that has highlighted racial discrimination and social disadvantage,' they added.
Speaking at the launch, Ian Thorpe, who contributed to the book and is also a supporter of the project, noted 'Australians have a very particular relationship with water, which is shown in many different ways through the pool as an important social space in our country. The Creative Team has done an amazing job at capturing that essence in this book'.
The Pool: Architecture, Culture and Identity in Australia retails at $39.95 and is available through Books at Manic, www.manic.com.au