Sixteen projects are in the running for honours in the Australian Institute of Architects' 2013 Northern Territory Architecture Awards with winners to be announced on Friday 7 June.
Spanning the region from Darwin in the north to Alice Springs in the south, the projects include a water park, tourist facility and emergency department among others entered in urban design and commercial, enduring, heritage, interior, public, residential and small project architecture categories.
Jury Chair, Justin Hill of Kerry Hill Architects in Singapore along with juror Brendan Meney of Brendan J Meney Architects in Alice Springs and lay juror Diana Richards, Assistant Director of the Northern Territory Library will select the worthy recipients.
Projects that receive a Named Award or an Architecture Award on the night will progress to the National Architecture Awards to be announced in Sydney on 7 November.
Former Chief Minister Clare Martin will present the awards to Northern Territory winners at a special Awards ceremony at the Darwin Ski Club on Friday 7 June. Media are invited to attend.
'This year's award entries span the length and breadth of the Northern Territory. The architects have responded sensitively to the climate, location and culture of each place.
'The high quality of these projects highlights the significant contribution architects make to our cities and towns,' said Simon Scally, NT Chapter President of the Institute.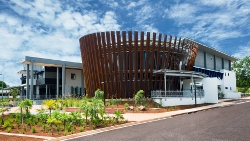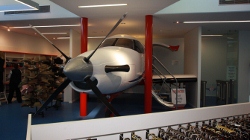 Key public buildings entered in the 2013 Awards include the Australian Centre of Indigenous Knowledge and Education by DKJ projects.architecture which includes an open air ceremonial space, central courtyard and state-of-the-art IT enabled Literacy Laboratory, facilitating interactive learning connections with 16 remote territory sites.
The Royal Flying Doctors' new Tourist Facility in Alice Springs, designed by Zone A is a contender in the public and interior architecture categories. The design features a full scale replica of the fuselage of one of the services operational airplanes.
View all NT Architecture Awards' entries here.
For media enquiries and high resolution images contact:
Alexandra Cato
National Media and Communications Officer
Australian Institute of Architects
P. + 61 (3) 8620 3813 | M. +61 (0) 416 022 818
alexandra.cato@architecture.com.au
The Australian Institute of Architects is the peak body for the architectural profession, representing 11,500 members across Australia and overseas. The Institute actively works to improve the quality of our built environment by promoting quality, responsible and sustainable design. Learn more about the Institute, log on to www.architecture.com.au.