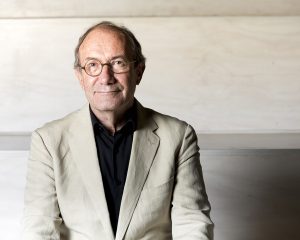 March 2017
Housing affordability is currently a hot topic for good reason. We cannot have vital and sustainable communities without diversity, and we cannot achieve real diversity without equity. Motivated by the need for stronger advocacy from our profession, and the absence of design in the recent debates, last week the Institute hosted a housing affordability breakfast briefing at Parliament House in Canberra to examine the issues of density, design and the challenges ahead.
The audience included Assistant Minister to the Treasurer, the Hon Michael Sukkar MP, Shadow Treasurer Chris Bowen and Shadow Minister for Housing and Homelessness Senator Doug Cameron, along with more than fifty Members of Parliament, Senators and Staff from all political parties. It was reassuring to see so many of our federal parliamentarians join our National Councillors and Executives to hear about the invaluable role architects can play in addressing one of the nation's most pressing problems.
Our aim is to establish a stronger voice for the profession on key issues we face, and this event demonstrated our credibility and passion for public responsibility architects bring to the table. This important high-level advocacy on behalf of the profession on a range of issues will become an annual event.
While there can be no doubt that affordability is a complex issue, with significant impacts on our economy, changing family profiles and changing values, there are certainly valuable unrecognised contributions to be made by the architectural profession through design innovation.
We need to make better use of existing stock through inventive retrofitting to suit current demographics and there are many exemplary examples of this already available. We need to take into account access to employment, education, services and facilities. We need communities where there is less reliance on cars, better public transport connections, where density in the urban environment is well designed, where infrastructure investment supports strategic planning and where communities are connected and brought together in a way that enhances liveability, sustainability and productivity.
What is clear is that it requires a coordinated response from governments, developers and industry. Agreements between commonwealth, state and territory governments, are an important start, promoting investment in affordable housing. However it is clear that with the depth of the current housing challenge it is time for a major policy overhaul with all measures on the table including stamp duty, land tax, capital gains tax, and negative gearing to ensure policy levers are effective. Carefully calibrated incentives will also be necessary to the development sector in return for the delivery of housing diversity and affordability, along with incentives to encourage compliance beyond the minimum requirements. Planning regulations also need to be modified and harmonised to introduce clear targets for social and affordable housing, including more flexible housing types and multi-generational occupancy.
You can read my full address here. Assistant Minister to the Treasurer, the Hon Michael Sukkar MP, responsible for the government's housing affordability strategy also addressed the event outlining the steps the Turnbull Government is taking to address the housing challenge (you can read his speech here).
Architects are optimists, we want to make a difference – we want to change the world. We want it to be a better place as a result of our efforts. We deal with the physical and experiential and for us and the Institute, the most important thing now is to translate this optimism into action – otherwise there will be no real change.
Change will certainly be on the agenda at the National Architecture Conference: PRAXIS in Sydney, 4-6 May. The conference is a once a year opportunity for the profession to come together, to be inspired and to challenge ourselves. It is an incredible chance for us to hear from leaders, both experienced and emerging, from beyond our shores and closer to home – also to earn CPD points. While this year the ticket price is higher, this reflects the higher Sydney costs, and includes the opening party. It is also worth noting the tickets are competitively priced for professional events of this calibre, including the PIA conference being held in parallel.
Our full complement of international speakers – Eva Castro, Rahul Mehrotra, Winy Maas, Sheila O'Donnell and John Tuomey, Vo Trong Nghia and Anupama Kundoo – will be focusing on their design ethos, process, and modes of practice as evidenced by the projects they will present. We are in the process of releasing details of the impressive list of local speakers also exploring the notion of PRAXIS – their work and the thinking behind their work– led by Australia's most prominent architect, Glenn Murcutt and includes Megan Baynes of Room 11, Penny Collins and Huw Turner of Collins and Turner, Emma Williamson of Coda, Rachael Nolan and Patrick Kennedy of Kennedy Nolan, Rodney Eggleston of March Studios as well as John Wardle and Neil Durbach presenting the unusual collaboration of JWA and DBJ on a new gallery in Chippendale for Judith Nielson. A rich architectural feast!
It's only five weeks until the conference so I urge you to book now to make the most of discounted accommodation offers and I look forward to seeing you at the ICC, Sydney.
Ken Maher
National President