Today is a hard one to summarise – we were taken on a guided walking tour by architectural conservationist and educator David Garrard around a multitude of buildings, from a remnant of the fortified wall that enclosed medieval London, to the Herzog and de Meuron's Tate Modern Switch House that was completed in 2017.
My overall impression is that London is a city in tension and profoundly more chaotic than what I saw in Copenhagen. There's a palpable tension between economic growth and preservation, the working class and the bourgeois. It has a rebellious, punk attitude in contrast to deep rooted tradition that makes the city such a captivating place.
For me, the tour today raised many questions about heritage and conservation. London is a city that seems to be constantly shifting the goalposts of what should be preserved. Amid rapid development you can see in the urban fabric make desperate grasps to protect the vestiges of their built history.  "View cones" to St Paul's carve out dense pockets of high rise towers, even though the view of the cathedral's river facing façade has long been compromised by new developments. Many of the contemporary buildings we saw today only exist because heritage listed buildings were allowed to be cleared for "exemplary" architecture. Ordinarily, buildings less than 30 years old are not considered for heritage listing. However James Stirling's No 1 Poultry was granted listing status at barely 20 years old and uniquely evaded the fate of many other post-modernist buildings.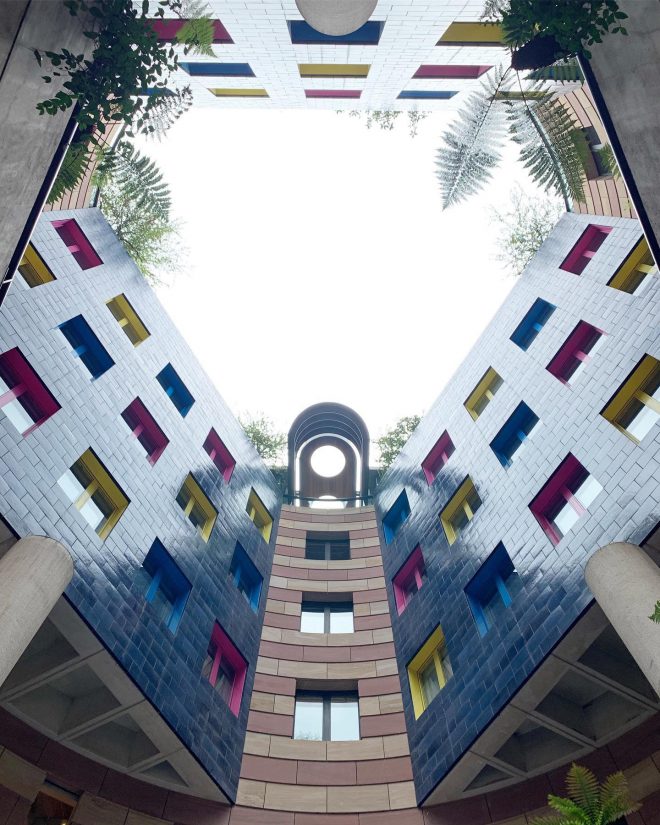 No 1 Poultry by James Stirling.[/caption]
The mid-point of the tour today saw us encounter two impressive brutalist buildings, the Hayward Gallery and National Theatre that seem lucky to have survived an era of public distaste for the style, to live until a time when there is growing interest in the brutalism and its severe, raw structures. This newfound trend or fashion for brutalism is an example of how quickly the thresholds of taste can change.  
Of course, some brutalist buildings are deemed more worthy than others – the unloved, exuberant and "craggy brutalism" of the Hayward Gallery building sits next to the more universally renowned National Theatre. The Hayward Gallery is a clear example of the opposing forces of this city, a building that at once "outraged bourgeois tastes" whilst also catering for them with galleries for fine art, whilst the National Theatre is "a breathtaking and serene" play of volume and space.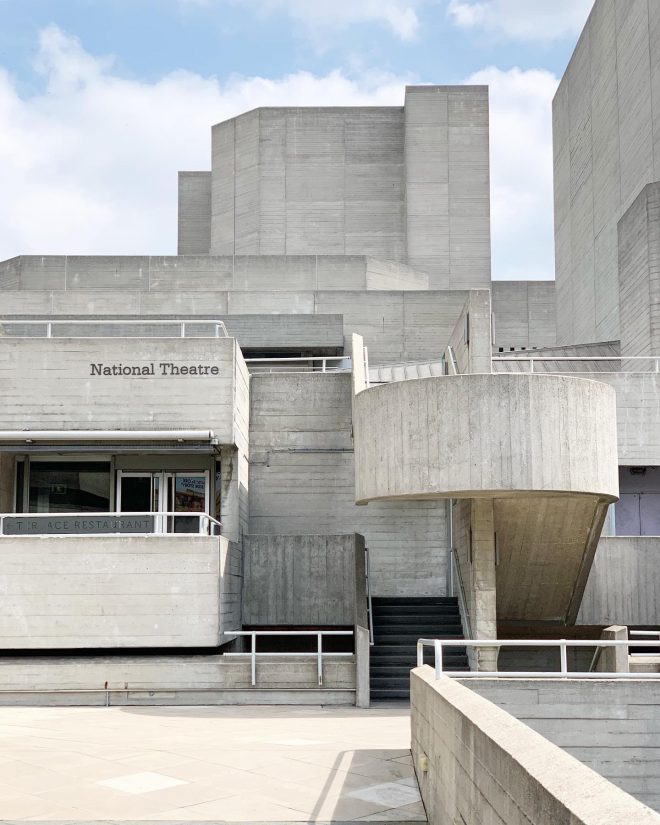 National Theatre by Denys Lasdun and Partners.[/caption]
Seeking a non architect's opinion on brutalism – I asked Anurita from Dulux what she thought of the two buildings. To her, both were inaccessible, heavy and somewhat depressing. Yet the architecturally trained members on the tour all entered a dream state and a frenzy of photography when we came upon the National Gallery. It's clear brutalism is really still an architect's architecture, and it can be pretty difficult to argue for it's public value.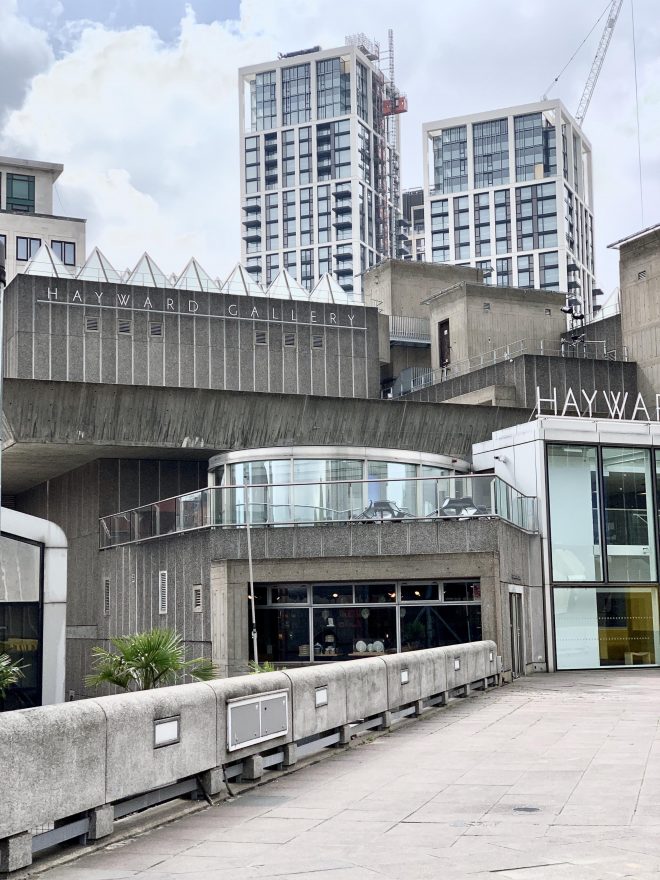 Hayward Gallery by GLC Architects Department.[/caption] >
Across the river we saw another brutal, yet not brutalist icon at the Tate Modern. Within Herzog and De Meuron's revitalisation of this industrial structure we can see changing approaches to preservation within one site, and even within the work of one architect in two projects developed 10 years apart. 
The refurbishment of the spaces around the Cathedral-like Turbine hall exhibit one approach in which new interventions starkly contrast in material and form with the existing.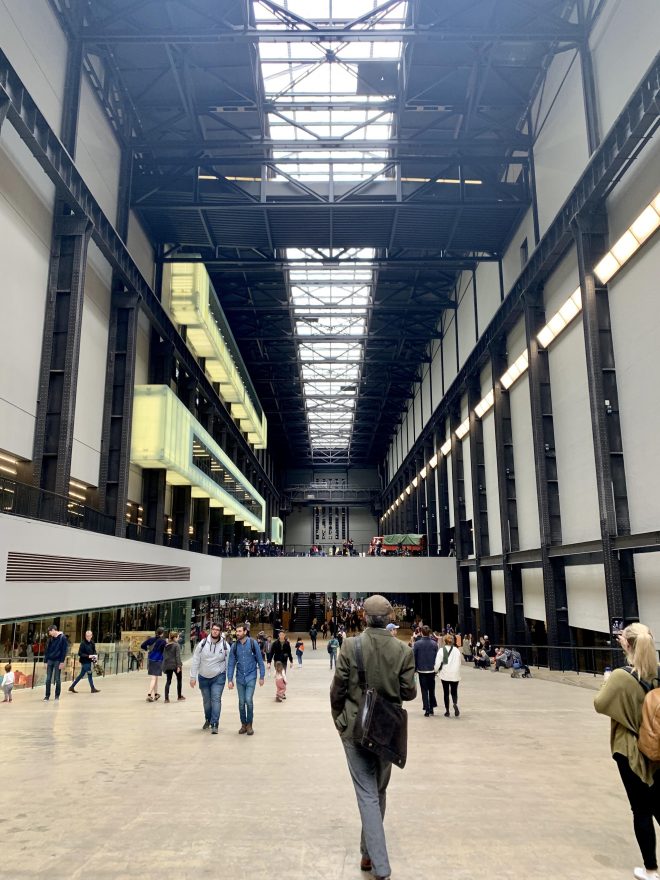 Turbine Hall of Tate Modern by Herzog and de Meuron.[/caption]
In the Switch House, completed in 2017, Herzog and de Meuron's approach seems to have shifted from toward a more analogous use of material and structures. The base of the Switch House is particularly joyful, where the junctions between the rough existing concrete structures of the tanks and columns and an exquisite forest-like collection of new concrete columns and a grand stair are almost imperceivable.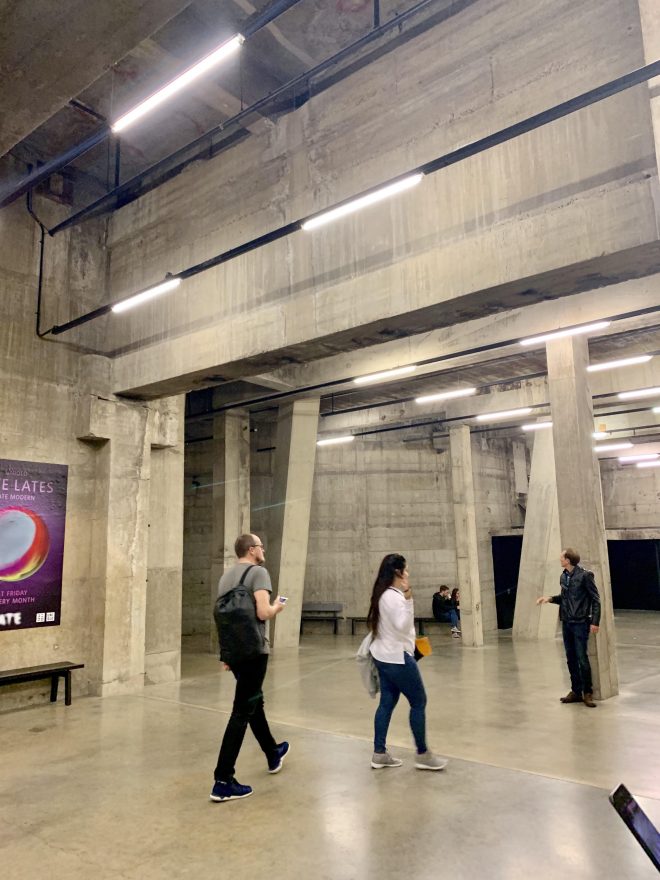 Tate Modern by Herzog and de Meuron.[/caption]
What differentiates the brutality of the Tate from the National Theatre and Hayward Gallery building, however, is the generous and open spirit of the gallery that invites the public into their spaces. The Turbine Hall can be used in its most basic state as a thoroughfare, and the Switch House invites visitors up to its free viewing floor for a unique perspective of London.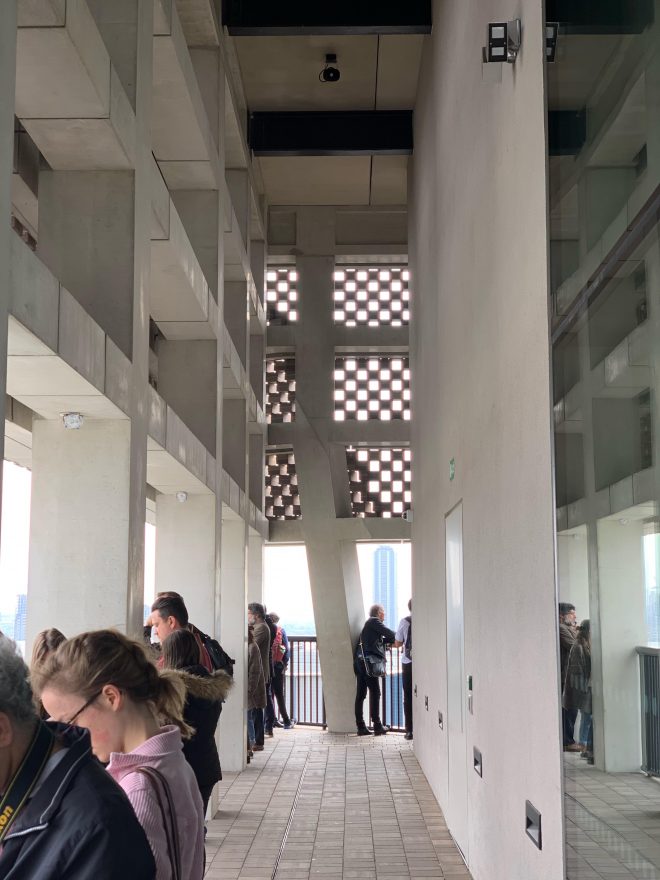 Tate Modern by Herzog and de Meuron[/caption]
In defending certain architectural styles that were once out of favour today, I had to challenge my own opinions of other styles, one being the locally grown, yet globally ambitious "high-tech" movement born from London practices such as Rogers Stirk Harbour and Partners and Foster and Partners. Having always disliked this style from an aesthetic point of view, understanding the style today from the broader cultural context of representing at once London's industrial identity, as well as its innovative aspirations of the late 20th century, I have a newfound appreciation for the climate in which it rose to popularity. 
Just as I imagine brutalism might have ruffled a few feathers decades before, I imagine the experience of the Lloyds building by Richard Rogers Partnership – what our guide described as "emerging through Dickensian lanes upon an explosion of kit" –  would have done the same in it's time and probably still does. The building has a certain kind of shocking, ugly beauty that is not for everyone, but I believe is a building of great worth I would hate to see gone.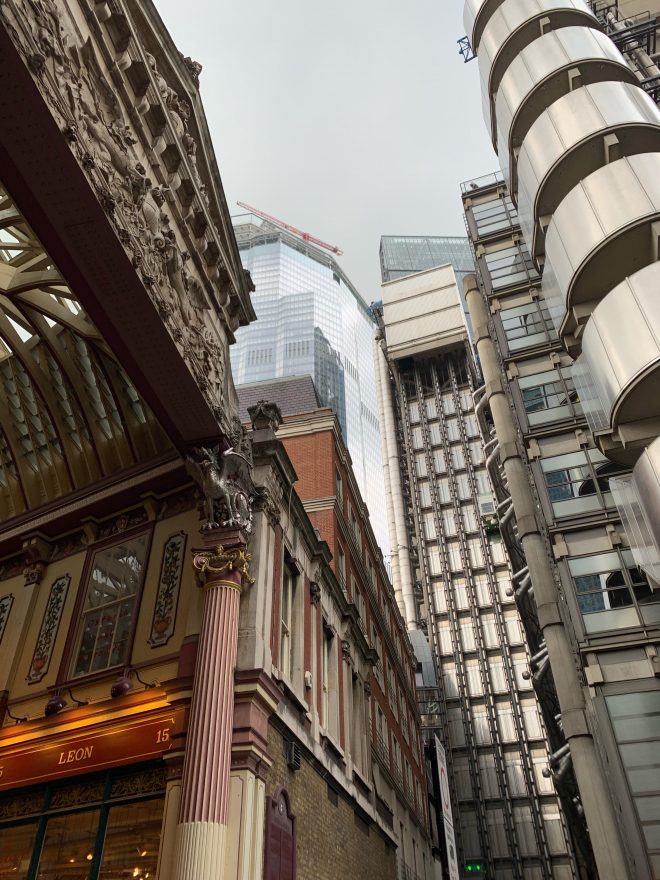 The Lloyds Building by Richard Rogers Partnership adjacent to "a Dickensian lane."[/caption]
In keeping with the ugly/beautiful theme, one of our last stops was the divisive and epic post-modernist 1 Poultry by James Stirling. Having studied architecture in Melbourne, I've always had a soft-spot for the pos- modern movement and the era it was born from, most probably due to how much coverage the movement had in the history and theory subjects that were part of the curriculum there. I have realised on this trip, however, this is not a common situation for all that have studied architecture, and the post-modern movement can be inaccessible and derided by architects and non-architects alike. But I'm so glad the building has been listed and hopefully protected for many years to come. Because the central atrium space is breathtaking, and without post-modernism, we wouldn't have practices like Herzog and de Meuron who manage to interpret context in new and perhaps more palatable ways.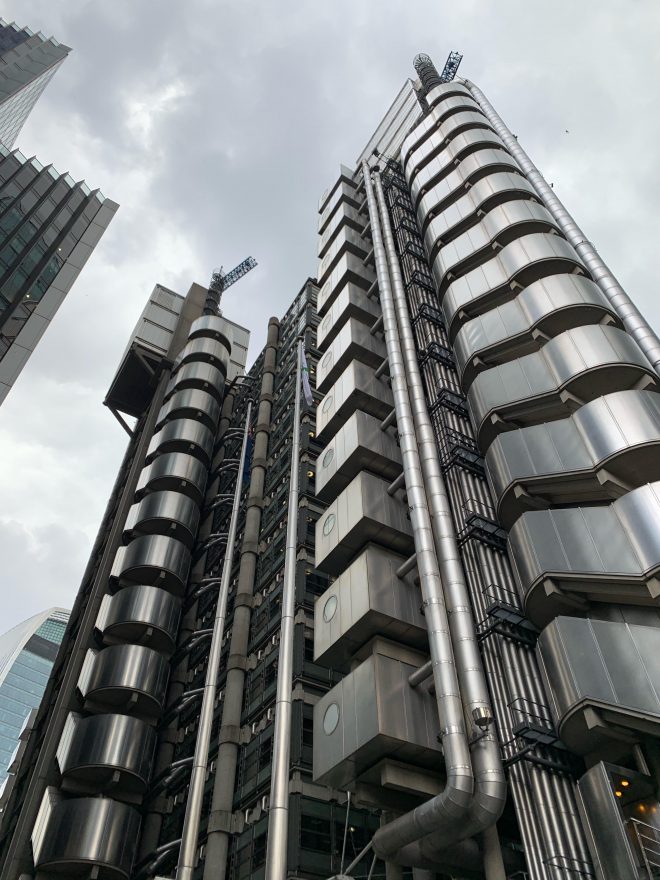 Lloyds Building by Richard Rogers Partnership.[/caption]
While this city can seem anarchic and capitalist-driven in its development compared to more fiercely preserved European cities, it seems it is precisely this combination of tradition, establishment, enterprise and innovation that has allowed London the remain one of the true powerhouse cities of the world.
I feel no closer to answers of any of the questions raised today about appropriate conservation and preservation, only armed with more questions.  What role will sustainability objectives have in our future choices of what to preserve and what is allowed to be removed? How do we create situations which give us the time to let buildings become sacrosanct? What is the correct amount of time to wait before deciding if a building is important? And who gets to decide?
– Alix Smith