We arrived in Lisbon today, city three of three. A relatively light on itinerary we had only had three things to do. Make it to the airport on time, tour the Museum Art Architecture and Technology (MAAT), and eat a Portuguese tart.  
We managed number one, relatively unscathed, although with Carrie's birthday celebrations and the Eurovision final there were a few sleep deprived tour members on the bus. The flight over the Channel and beyond allowed time for reflection on what the tour so far and anticipation for what was to come, between naps that is.
Contrasts and similarities between Copenhagen and London were exacerbated by our arrival to Lisbon. Copenhagen was an amazing city and is regularly ranked amongst the top liveable cities on the world. On our studio visits and building tours we learned that people are always at the centre of the decisions made for the city, public places are of high priority to government and architects alike. London on the other hand had a more privatised approach to public space. Squares that seemed public were in fact private spaces that had commercial not community reason for being there. While London is seemingly all about monumental architecture, Copenhagen seems more humble. Still they both seem to be a bit contrived, maybe a little too perfect. But only in comparison to Lisbon.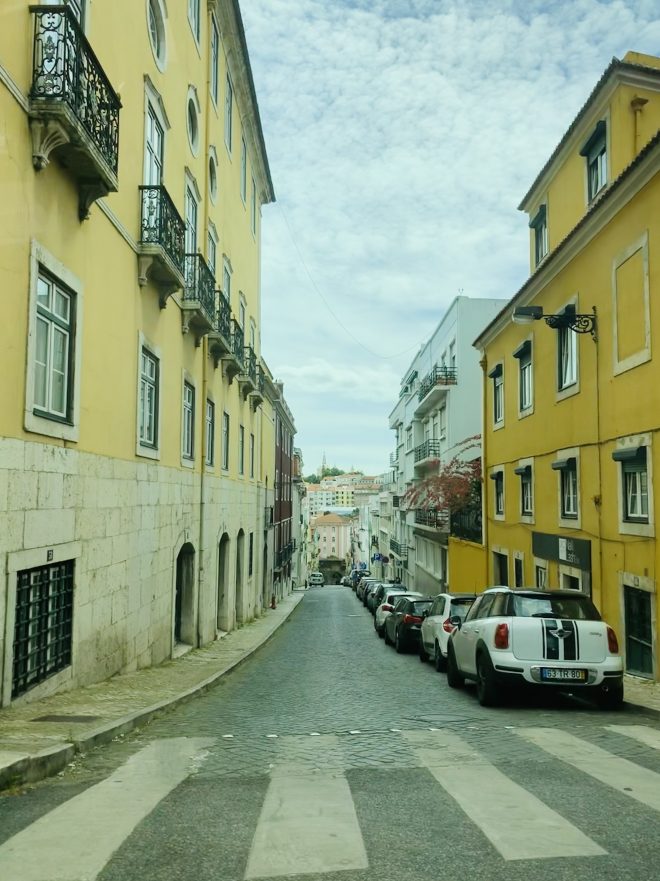 The streets of Lisbon.[/caption]
Lisbon feels vibrant. The topography, hilly streets that wind around the city are filled with brightly painted buildings or beautifully glazed tiled facades. The pavements are made of patterned mosaic stones that have become polished (and a little slippery) by the constant footsteps of the cities inhabitants. The narrow streets will unexpectedly open up into beautiful public squares. There is an imperfection to the city, that in contrast is starting to make Copenhagen feel a little Truman-esque.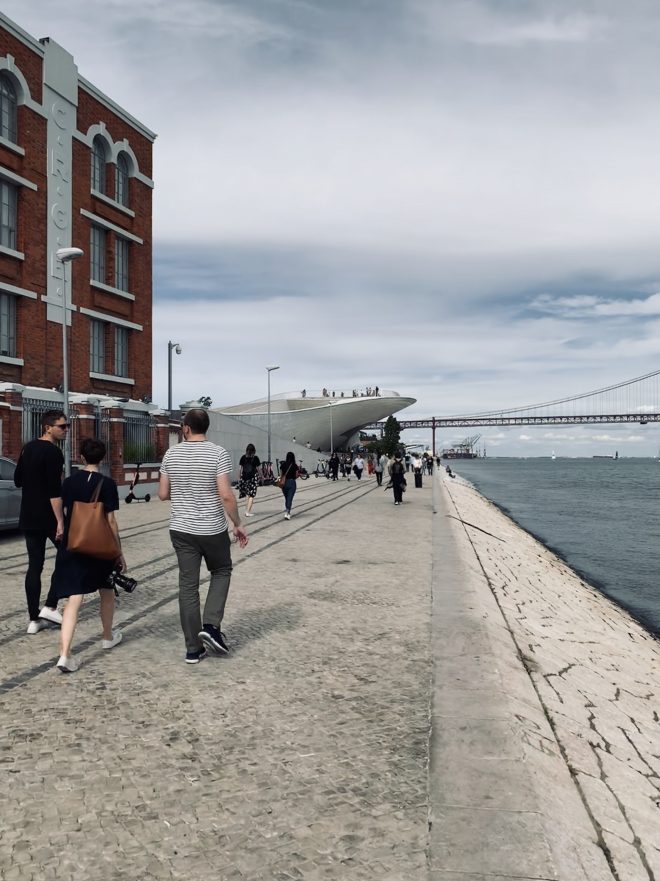 Walking towards MAAT by AL_A.[/caption]
This imperfection of the city is somehow manifested in AL_A's MAAT.  Located in the historic Belem's district the project, commissioned by the EDP Foundation a private non-profit institution, it seeks to revitalise the riverfront and provide a space for "debate, critical thinking, and international dialogue".  The building is pulled back from the rivers edge, giving way to a large promenade the is filled with people walking, cycling, and scooting by.  The sculptural form of the building also provides a large open space on the roof top with 360-degree views of the river and the city. It's making some fantastic civic moves. The form, when seen from particular angles, has beautiful lines that are reminiscent of the Sydney Opera House by Utzon. The execution is far from perfect though, and spatially the interior poses some problems in the operation of a museum gallery space.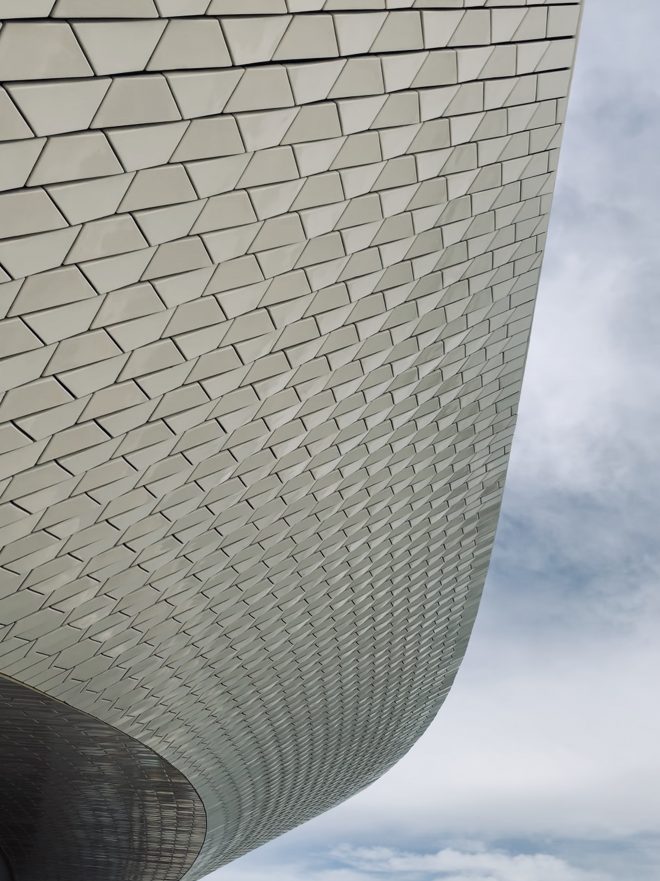 MAAT by AL_A.[/caption]
Our museum guide Renato Santos introduces us to the concept of "real" and "fake" space. When clarifying if he means the "real" space is the architecture as it was originally designed and the "fake" space is the temporary insertions to make the current exhibitions workable in the building, he answers, "even fake things are real.  Fake news is real to the people who believe it is real".  A highly philosophical answered, to what I thought was a pretty straight forward question.  I'll be thinking about that one for a while.  
It is what he means though, and this need for "fake" space in a building designed as an exhibition space, shows how this building is not perfect. Servitudes – Circuits (Interpassivities) by Jasper Just in the Oval Gallery plays to this need for "fake" space by inserting new pathways and spaces into the building.  The feeling is that without an imperfect exhibition space to do that in, the art work wouldn't be as successful as it is.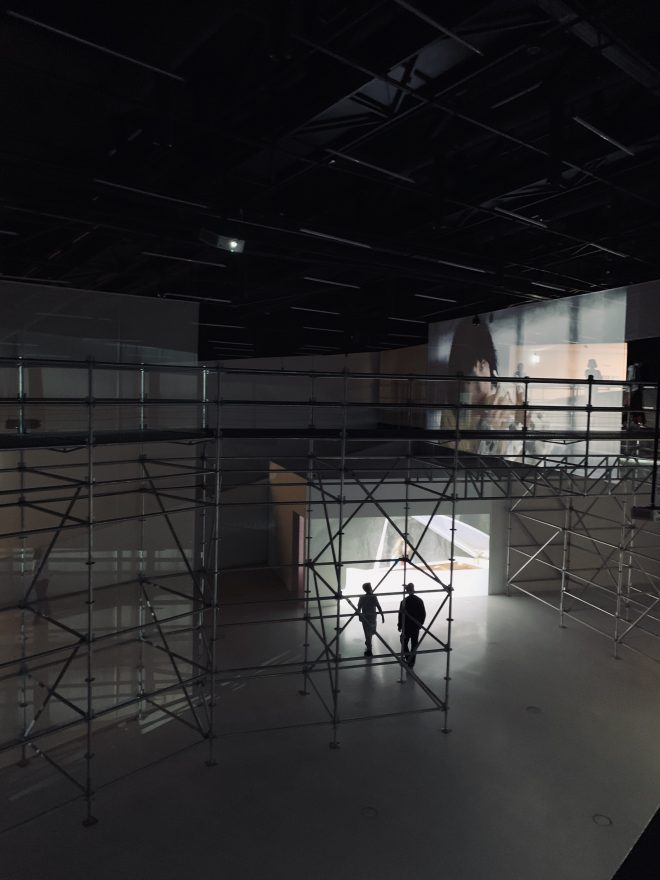 Servitudes – Circuits (Interpassivities) by Jasper Just.[/caption]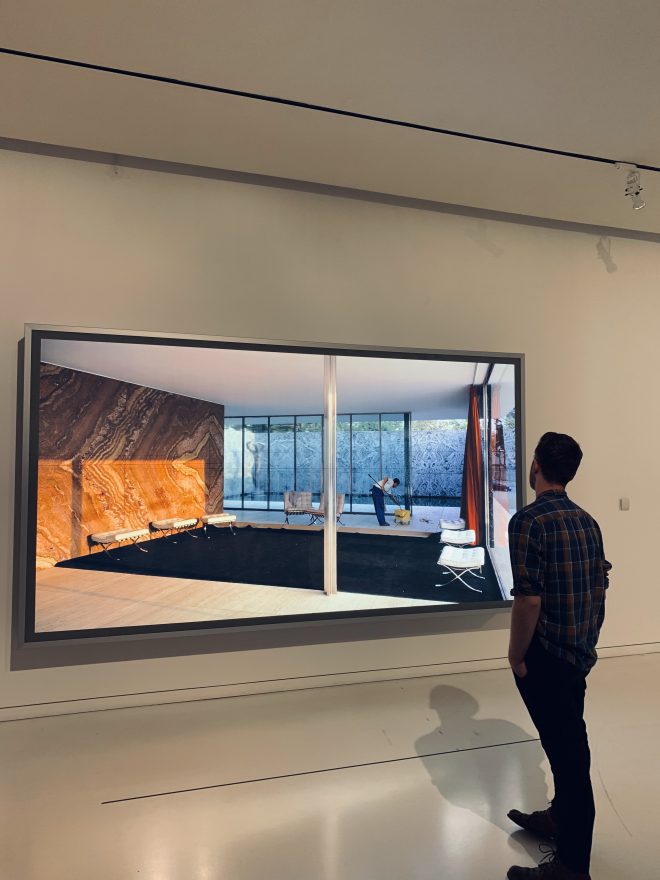 The neighbouring exhibition Fiction and Fabrication: Photography of Architecture after the Digital Turn also speaks to the themes of perfection, imperfection, real, and fake.  With the anniversary of 30 years of photoshop, it is hard to decipher which photos are real, what has been fabricated, and if being perfect makes them good images or not. Just as if being a perfect city, makes for a good city.  I'm excited to find out more about Lisbon on our walking tour tomorrow and just how perfectly imperfect this city is. Since we never managed to get that Portuguese tart, we'll have to work on that too.
– Carly McMahon