National President Elect, David Karotkin, has announced the creative team for the 2015 National Architecture Conference on the final day of Making: 2014, this year's conference, held in Perth.
Donald Bates, Hamish Lyon and Andrew Mackenzie have partnered to explore the changing role of risk in architecture for the 2015 Conference, which will take place in Melbourne, 14-16 May.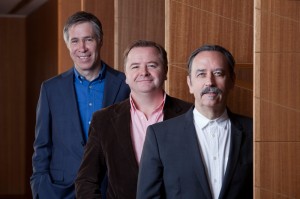 'No one wants to be a safe architect; to be conventional and predictable. Yet what client would choose the risk of the unknown over the safety of the known?
'Risk will explore this troubled nexus; between the professional necessity to take calculated and creative risks and a world incapacitated by risk minimisation,' the team said.
'From the domestic risk of the Farnsworth House to the spatial risk of Bilbao Guggenheim, from the construction risk of Sydney Opera House to the cultural risk of the Pompidou Centre, all great achievements in architecture have been the result of calculated risks, by both architect and client.
The multidisciplinary team will focus their attention on four aspects of risk within the profession: risks related to cultural relevance, architectural pedagogy, professional practice and the discipline of architecture.
Professor Donald Bates is a Director of LAB Architecture Studio in Melbourne and is Chair of Architectural Design at the University of Melbourne. Widely published, he has completed works in a variety of countries across Asia, the Middle East and Great Britain, in addition to local projects including Melbourne's Federation Square precinct. Donald has participated in lectures, seminars, reviews, workshops and programs at over 95 universities and schools of architecture and professional venues.
Principal of NH Architecture, Hamish Lyon leads the firm's design thinking and direction. He is involved in projects of all scales within the office and has completed a wide range of architectural projects, urban initiatives and masterplans including Melbourne's world class 6 Star Green Star Convention Centre on the Yarra River and the redevelopment of Myer's flagship Bourke Street store in the heart of Melbourne's CBD. He began his architectural career with the national Robin Boyd Medal, awarded under the chairmanship of the pre-eminent Australian architect, Glenn Murcutt. His ongoing commitment to architecture as a public advocate was recognised in the Age's 2009 poll where he was voted one of Melbourne's 100 most influential people.
Andrew Mackenzie is Director of CityLab, a consultancy he founded in 2011. His clients include Major Projects Victoria, Monash University, Gold Coast City Council, Waterfront Auckland and Integrated Design Commission South Australia. He is also an independent publisher of architecture and design books under the imprint Uro, which publishes practice monographs as well as architectural history and theory. He is also an architecture writer for the Australian Financial Review and a Contributing Editor to Architecture Australia.