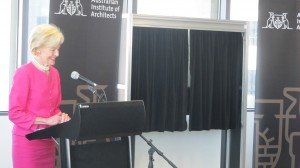 Her Excellency the Honourable Quentin Bryce AC CVO, Governor General of the Commonwealth of Australia, has today officially opened Victoria's new home of architecture at 41 Exhibition Street.
Developed by the Australian Institute of Architects, 41X is a 21-storey Five Star Green Star strata-titled commercial tower that accommodates the Institute's Melbourne offices, including the Victorian Chapter, over five levels. 41X is the first strata commercial office building in Melbourne to target carbon neutrality over its 30 year operating lifespan -accounting for embodied energy, base building operational energy, transport and waste.
'41X successfully shows how private and not-for-profit organisations can have a positive impact on the development of our cities by creating world class, cutting-edge, environmentally responsible commercial buildings,' Her Excellency said.
'This elegant addition to Melbourne's CBD makes a bold statement about the value of design. With this building, the Institute is strongly reinforcing the value of architects and architecture to the sustainable growth of our community – tangibly fulfilling its mission of 'making the world a better place through architecture'.
Conceived as a hub for architecture, for Institute members and the public alike, 41X is the place for design enthusiasts to meet, with a design haven on level 1, complete with a comprehensive architecture and design bookshop (Architext) and a café run by Axil Coffee Roasters. In addition, the Institute is currently developing a program of public events focusing on architecture and design.
41X is situated on a small footprint block at the corner of Exhibition Street and Flinders Lane and is also home to 15 other purchasers and tenants keen to be part of this exemplar building.
The project's inception dates back to 2006, when a detailed feasibility study for the site, encompassing a range of potential options for its future including renovation through to relocation, was commissioned.
After extensive consultation, the Institute's National Council decided that the site would be redeveloped into a small office tower that would set new standards in quality Australian commercial architecture.
In 2008, the Institute held a two-stage design competition. The commission was awarded to Lyons Architects with a concept that explored ideas about the hybrid public/commercial building, the engagement of the Institute with the public and targeting a carbon-neutral outcome.
In 2012, following a rigorous selection process, HASSELL was selected as architect for the fit-out of the five Institute-occupied levels.
Paul Berkemeier, National President of the Institute said 'We are immensely proud of our new Melbourne home. It is an exemplary, small footprint, commercial building that shows how good design, sustainability and the work of architects can deliver outstanding results.'
Please see accompanying fact sheet for full details on the sustainability, design and development features of 41X.