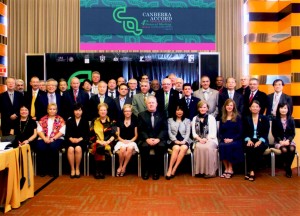 As one of the founding members of the Canberra Accord, the Institute's CEO, David Parken; President-elect, Paul Berkemeier, and National Education Manager, Martha Liew, attended the Canberra Accord Fourth General Meeting in Guadalajara, Mexico, with AACA President, Nino Bellantonio, as an observer. The meeting provided a significant opportunity for signatory members to review architectural education systems and discuss issues of common concerns in relation to architectural education.
The goal of the Canberra Accord is to assist mobility of students and graduates of architecture by recognizing substantial equivalency of architectural education through peer review among signatory members and benchmarking architectural education. The Accord came into effect in 2010 and the Australian architectural education accreditation system will be subjected to a review in 2015. Signatory members of the Canberra Accord include Canada, CAA, China, Korea, Mexico, US and Australia.
During the Fourth General Meeting, each signatory had the opportunity to provide an update on their activities. While most signatories are still working through the implementation of the Accord, a significant milestone has been achieved in 2013 with Canada reporting that all of their Canberra Accord applicants to date came from Australia (a total of four candidates applied for Canadian registration). The movement of Australian students and graduates of architecture to Canada has demonstrated the effectiveness of the Accord in efficiently verifying architectural education qualifications and assisting applicants to apply for local registration.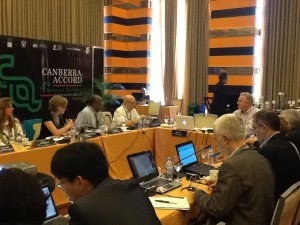 Another significant milestone achieved at this meeting is the Accord's increasing reputation around the world. In the previous General Meeting discussions on identification of new members was briefly touched on. In the past two years the Canberra Accord has received expressions of interest from a number of countries/jurisdictions even though it hasn't been actively promoting its activities to the wider community. The increasing recognition of Canberra Accord in the architectural community is evidenced by the significant number of accrediting authorities attending the meeting, including Central America, Spain, Chinese Taipei, South Africa, Hong Kong and Japan in Guadalajara. Their attendance has demonstrated not only their confidence in the Accord system but also reflects the increasing global need for mobility in the architectural profession.
Finally, the Institute's CEO, David Parken, has retired from his duty as the Chair of the Canberra Accord and the new Chair, Sunjung Chough (Korea) will lead the Canberra Accord signatories for the next two years (2013 – 2015). The next meeting will be jointly hosted by Canada and US in Boston in 2015.