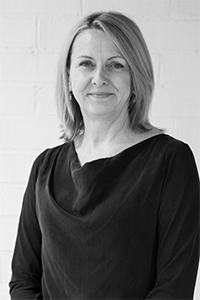 Chief Executive Officer Jennifer Cunich. Photo by Kelly Chen

July 9, 2018
Chapter Architecture Awards
The past month has been a veritable celebration of the impact of great design on our communities and the incredible achievements of our members across all scales of architecture. With the exception of the International Chapter Architecture Awards which are being held on 20 July, our state and territory Architecture Awards have taken place around the country with successful events bringing members and guests together for memorable nights of festivity. I was lucky to have been able to join many of you as you toasted with colleagues and peers.
Congratulations to all individuals involved in the recognised projects and indeed to all entrants and clients for their commitment to pursuing design excellence. I would also like to thank the many Institute staff and members who dedicated their time and expertise as jurors, without their tireless efforts our Awards would not be so successful and highly regarded. The rigour of our thorough peer-review program, the largest in the southern hemisphere, is well acknowledged within design spheres and the broader audience, resulting in a high level of interest by local and national media, including the Australian Financial Review.
With the Chapter Awards program nearing completion, our national jury will shortly be reviewing the Chapter Award and Named Award winning projects for consideration for national honours. This year, Immediate Past President Richard Kirk (Chair) will be joined on the jury by Victorian Government Architect Jill Garner, award-winning emerging practitioner Charles Wright, award-winning architect Kevin O'Brien, and editor of Houses Katelin Butler. I am sure there will be many insightful and impassioned discussions as they travel the country in search of the best of the best.
Banking Survey
Late last month members received information regarding lending conditions imposed by banks specifically in relation to ABIC or Australian Standards contracts. In conjunction with ArchiTeam and the ACA, the Institute distributed a survey asking for your experiences to assist us in representing the profession at the Banking Royal Commission. Thank you to all those who took the time to respond to the survey. We are currently reviewing all your contributions and preparing our submission to the Commission. We look forward to providing further updates shortly.
Member Review
Strong member engagement and loyalty is a key priority for the Institute and one of our 2020 outcomes as outlined in our Institute Strategy 2018-2020. To achieve this goal, we have commenced a redevelopment of our membership structure to better support members throughout all stages of their careers.
Significant work has already been undertaken this year by the Institute team, in consultation with National Council, including a comprehensive review and audit of the current structure and membership data; comparative discussions with peer organisations in Australia and abroad; internal workshops and preparation of initial proposals for preliminary stakeholder review.
The next stage involves consultation with your elected Chapter Councillors, a process which is already underway, and will extend to further stakeholder groups including SONA, EmAGN and relevant committees in due course. The valuable feedback provided through these consultations will inform the consolidated and revised proposal that will be submitted to National Council later in the year. This is a wide-ranging review informed by thorough analysis of data and member experience that will provide tangible benefits for current and future members.
AIA Convention
During the recent AIA Convention in New York, I had the opportunity to meet with the CEOs and staff from the AIA, RIBA and RAIC. While both reassuring and troubling at the same time, the challenges all four institutes face are similar. Our meeting highlighted that at some level we are all working on issues of procurement, fees, contracts, advocating the value of architects, diversity and inclusion among others. RIBA has an advanced International Strategy and the RAIC is further advancing their work with Canada's indigenous community and I am confident that we can learn valuable lessons from their programs. We have a robust commitment to share information and data on matters ranging from energy efficiency to public outreach campaigns.
National President Clare Cousins and I also attended a roundtable workshop with Presidents and CEOs from around the world. Topics discussed included energy and carbon, diversity, equity and inclusion, advocacy, design and health, partnerships and resilience, and materials. It was a most informative session and while sometimes we in Australia may feel that we are a smaller player in the global environment, I am encouraged that Australia is leading the way in many areas impacting the design, planning, and building of our communities.
Gold Medal Tour
Finally, the 2018 Gold Medal Tour featuring Alec Tzannes AM LFRAIA, and supported by our Corporate Partner BlueScope, will commence in August. Make sure you keep an eye out for event dates in your state or territory.
Jennifer Cunich
Chief Executive Officer