The Australian Institute of Architects' 2013 National Architecture Conference, MATERIAL, will take place in Melbourne at the end of next month, with Early Bird ticket sales closing on Monday 22 April.
Featuring masters of material from all around the world, including local talents, the 2013 conference will provide refreshing insight into the evolving discipline of material use and showcase the advancements in their creation. The program is finalised and a rich line up of speakers is in place. A total of 14 speakers will be making the creative pilgrimage from USA, Austria, Spain, France, Switzerland, the Netherlands, China and from Australia.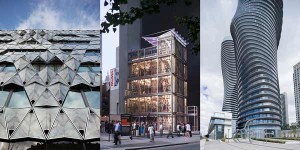 Through the assistance of industrial robots and helicopters, among other things, the speakers have manipulated a wide range of materials from plastic to pollution through brick, concrete and steel, incorporating recycled materials into their designs, pushing the boundaries of the built world. These Thought Leaders will speak about their work, their ideas and inspirations, and offer insights into their practices and personal perspectives on their own careers.
We will be in the company of practitioners who have exhibited on numerous occasions at the Venice Architecture Biennale; the Museum of Modern Art, New York; the Guggenheim Museum, New York; the Design Museum, London; Archilab; SF-MoMA; CCA Kitakyushu; Centre Pompidou; and Manifesta, among others.
'It will be an inspiring two days, and I'm personally looking forward to learning a few things. It's not a case of "the usual suspects",' said Shelley Penn, National President of the Institute.
Ticket prices have been frozen from 2012, in consideration of the current economic climate and its impact on our members, and the Early Bird bookings allow for significant savings.
The Institute is also offering a payment plan for attendees. Simply pay $100 deposit towards your ticket and the full amount can be paid in as many payments as desired, as long as full payment is received one week prior to the Conference, on Thursday 23 May.
While the main conference sessions take place at the Melbourne Convention & Exhibition Centre on Fri 31 May and Sat 1 June, a program of city-wide fringe and social activities is taking place from Thursday 30 May, including the official Opening Party on Thursday night on the roof top of Sean Godsell's beautiful RMIT Design Hub; and several building and factory tours and special SONA events.
Earlybird tickets close Monday 22 April. For more information and to book visit www.architecture.com.au/material.
———–
For media enquiries contact:
Alexandra Cato
National Media and Communications Officer
Australian Institute of Architects
P. + 61 (3) 8620 3813 | M. +61 (0) 416 022 818
alexandra.cato@architecture.com.au
Notes to editor:
Please visit www.architecture.com.au/material for links and more information on each speaker and events.
Speakers:
Kathrin Aste – LAAC Architects, Austria
Lucia Cano – SeglasCano Arquitectos, Spain
Billie Faircloth – KieranTimberlake Research Group, USA
Manuelle Gautrand – Manuelle Gautrand Architecture, France
Tim Greer – Tonkin Zulaikha Greer Architects, Australia
Matthias Kohler – Gramazio and Kohler, Switzerland
Yosuke Hayano – MAD architects, China
Carey Lyon – Lyons Architecture, Australia
MAD Architects – Beijing, China
Jorge Otero-Pailos – Columbia University, USA
Cesare Peeren – Superuse Studios, Netherlands
Philippe Rahm – Philippe Rahm Architectes, France
Virginia San Fratello – Rael San Fratello, USA
Nader Tehrani – NADAAA, USA
Emma Young – PhooEY, Australia
Fringe Events:
Conference Opening Party
Conference Closing Party
Building and Factory Tours
Victorian Architecture Awards Exhibition of Entries
SONA Opening Party
SONA Master Class Lunch
SONA Hangover Breakfast
Australian Interior Design Awards
Robin Boyd Foundation Houses Tour
Architour: Evolution of Public Space
CineCity: Architectural Film Competition Screening
Parlour Forum – Transform: Altering the Future of Architecture
The Australian Institute of Architects is the peak body for the architectural profession, representing 11,500 members across Australia and overseas. The Institute actively works to improve the quality of our built environment by promoting quality, responsible and sustainable design. Learn more about the Institute, log on to www.architecture.com.au.