I have just returned from Mexico, where I attended the biennial General Meeting of the Canberra Accord signatories in my capacity as Chair of the Canberra Accord.
The Canberra Accord process gives us a unique opportunity to have the substantial equivalence of our joint (AACA/Institute) system of accrediting and recognising architectural education programs with many of our important trading partners. Architecture is after all a mobile profession and opportunities for supporting mobility for students and graduates should be maximised.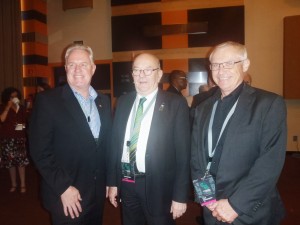 The meeting was attended by representatives from the seven signatories including Canada, USA, Korea, China, Australia, the Commonwealth Association of Architects and Mexico as hosts. It also included six other countries attending as observers who have shown interest in joining the accord as well as the President and Past President of the UIA in their ex-officio role.
On the subject of education – the federal government recently announced a proposed reform to self-education expense deductions. Introducing an annual tax deduction cap of $2000 per individual for all work-related education expenses, the proposed reforms will negatively impact the professional development of the architecture industry and in turn the future quality of our built environment. The Institute has written to the government and opposition and has sought meetings to outline its concerns with this proposal.
You can read more about the Institute's response to this here.
On the policy front, last week saw the launch of A New Deal for Urban Australia, a plan developed by the Urban Coalition to meet the emerging urban challenges and improve our cities' liveability.
Comprising representatives from leading built environment groups (including the Institute), the Urban Coalition proposes a new federal government minister and department for cities focused on quality strategic planning for the future of our cities.  A key recommendation is a proposed mechanism to increase investment through establishing an urban infrastructure fund to meet a backlog of more than $500bn in infrastructure needs for Australian cities.
As Shelley has mentioned, at the end of this month, the National Architecture Conference- Material takes place in Melbourne. I am looking forward to catching up with colleagues and meeting with members of the profession. In addition to our remarkable guest speakers, the Institute will welcome representatives from the American Institute of Architects, the Commonwealth Association of Architects, Architecture Canada, Singapore Institute of Architects, the New Zealand Institute of Architects and PAM in Malaysia.
The Institute's AGM takes place on the 29 May in Melbourne and I encourage members to attend. You can find more information about the meeting here.
The AGM sees the end of Shelley Penn's tenure as National President. I want to thank Shelley for her commitment to the Institute and the profession and I look forward to working with her in her new role as Immediate Past President. We will also welcome Paul Berkemeier as our new National President.
Kind Regards,
David Parken